Menlo Security's patented Isolation Platform protects organizations from cyber attack by eliminating the threat of malware.
About
Menlo Security protects organizations from cyberattacks by seeking to eliminate the threat of malware from the web, documents, and email. Our cloud-proxy with an Isolation Core scales to provide comprehensive protection across enterprises of any size, without requiring endpoint software or impacting the end-user experience. Menlo Security is trusted by major global businesses, including Fortune 500 companies and financial services institutions.
Products & Services
Menlo Security provides the necessary security services like Secure Web Gateways (SWG), Cloud Access Security Brokers (CASB), Data Loss Prevention (DLP), Advanced Threat Protection (ATP) converged on its cloud-native model and utilizes a global, high-capacity, low-latency edge network for optimized user experience. The end result, customers get granular access and security policies enforced, data leaks prevented, cloud apps are secured, and compliance is ensured across all devices and locations.
Secure Internet
Secure Internet is built on Menlo Security's patented Isolation Core. The suite solves multiple web security, email security, threat prevention and data protection issues by separating the enterprise network from the public web while providing seamless, unrestricted access to the internet. It also provides the most granular visibility and control of users, data and applications.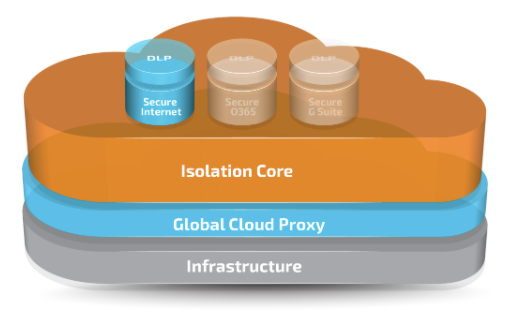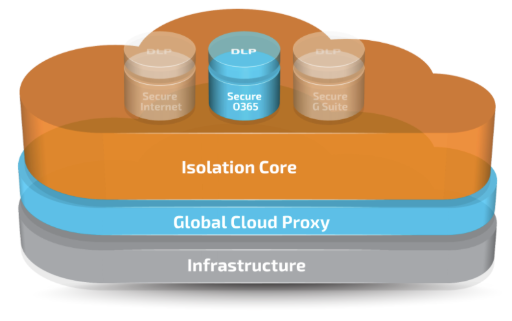 Secure Office 365
Secure Office 365 enables businesses to overcome the shortcomings of traditional network architecture by allowing direct-to-Internet connections and malware-free email links/attachments through our Isolation Core™.
The combination of these technologies allows us to provide superior email security and web-based phishing prevention, all while utilizing fewer network resources.
Cloud DLP
Cloud Data Loss Prevention (DLP) monitors and prevents data exfiltration by users within the organization. Cloud DLP provides 100% reliable inspection of all file uploads and browser form fields by using our Isolation Core™ that sits between the user and the Internet. By working with our Isolation and cloud proxy technologies, Cloud DLP identifies and tags specific data types deemed sensitive according to file type, regular expressions, or set data-type libraries.